Making A Difference in New Hampshire
Nashua Care Net
www.carenetnh.org
In the Fall of 2009, Hope and Life sent $1,000 donation to Nashua Care Net to provide diapers for needy moms.
Nashua Care Net provides pregnancy tests and support services as well as information on abortion procedures and pregnancy options to expecting moms.
---
Academy of Learning and Technology
In the Fall of 2008, Hope and Life sent $1,000.00 to help provide boots and gloves for the students at the Academy of Learning and Technology, an alternative school in Nashua.
---
Burundi Resettlement Project
Hope and Life is involved in the Burundi resettlement project based in Nashua, NH. Local organizations and churches have joined together to help five Burundi families that were relocated to Nashua during the fall of 2007. These families escaped Burundi in 1972 during? the war between the Hutu's and the Tutsi's and went to live in a refugee camp in the Congo. In the mid 90's they were forced to relocate to Tanzania because the government was forcing refugees to return to Burundi, which was still volatile. These five families walked into Tanzania, losing many family members to hunger along the way. Until the fall of 2007, they lived in a refugee camp in Tanzania. During September and October of 2007, each of these families were relocated to Nashua by the International Institute, a refugee placement network in Boston, MA.
During relocation, each family receives four months of government funding to help them establish themselves. This funding will run out early in 2008 and these families will be left to support themselves.
Hope and Life has joined with other churches and groups in the Nashua community to help the Burundi families establish themselves. We have started a supply bank of food, personal items and clothes so each family has access to these items as needed. Additionally, Hope and Life has helped sponsor weekly ESL classes to give the Burundians an opportunity to practice English.
Because we foresee Nashua becoming a more popular relocation destination for refugees in the future, we have begun meeting with our mayor to ask that policies and plans be set into place to ensure that these families are supported long enough to have success in becoming valuable working citizens in our community.
---
Tolles Street Mission
www.tsmm.org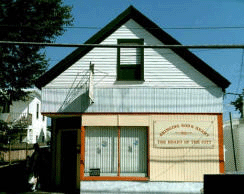 52 Whitney Street
Nashua, New Hampshire 03064
Main: (603) 880-4984
Tolles Street Mission is a non-profit, non-denominational Christian ministry geared toward meeting the immediate needs of the poor. As an outreach ministry, Tolles Street Mission aims to enrich the people's knowledge of the Lord Jesus Christ by bringing God's heart to the heart of the city.