Jamaica Christian School for the Deaf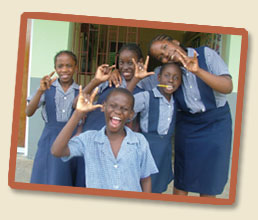 For the past 22 years, Jamaica Christian School for the Deaf (JCSD) has been educating deaf children in Jamaica. From humble beginnings with only a handful for students and no actual classrooms, they have grown into a substantial organization with their own campus. Currently they have over 30 children that live on campus for at least five days a week. Because of their remote location, most of the staff and teachers also live on campus during the week.
Because most of the student's parents are unable to pay anything towards their child's tuition, JCSD operates almost entirely off of support from donors in the United States. Since the tragedy of September 11, 2001 , the amount of support they receive monthly has dropped sharply and the school has found itself in a financial crisis, struggling to keep its doors open from month to month.
2010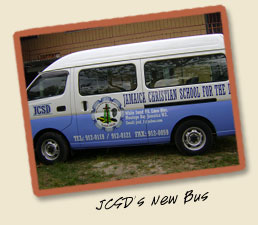 Hope and Life donated $6000 towards the purchase of a new school bus for JCSD. After saving for over nine years, JCSD staff are excited to finally have the bus and are now able to safely transport their students to various competitions and student outings.
2007
In December 2007, Hope and Life visited the JCSD campus. We visited with the students and toured the campus. The campus is well cared for, the children are thriving, and it is obvious from speaking with the Principal, Headmaster, and Dorm Mother that this school is so much more than just a job for them. It is their passion.
Hope and Life was able to donate over $1000 US to cover an outstanding grocery bill that the school had been unable to pay. They feed over 50 people three times a day (students, teachers, and staff).
For more information about JCSD, and to see their students, visit www.jcsdeaf.org.