Cirriculum Translation: Summer 2010
A very successful, higher educational curriculum is being funded by Hope and Life to be translated into Creole (language spoken in Haiti). The curriculum's translation is more than half completed and will be made available to Haitians soon.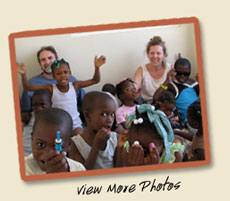 Visiting Haiti in 2009
Friends of Hope and Life, Brian and Linda LaSalle visited Haiti recently and came back with an assessment of some critical needs at the Mission of Hope in Haiti. One thousand dollars was sent from Hope and Life to buy new mattresses, chairs and tables for the 30 orphans that were recently rescued by Lex and Renee Edme, the directors of Mission of Hope, Haiti.
---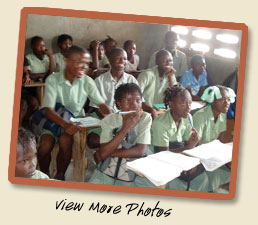 Hope and Life's first trip into Haiti was in May of 2007. We stayed in the home of Lex and Renee Edme, the directors of the Mission of Hope School for about a week as we became acquainted with teachers and students.
The Mission of Hope School provides a great education and a hot meal every day for over 400 children, free of charge. In stark contrast with the poverty that surrounds them, the children who attend school at Mission of Hope are clean, neatly dressed and visibly happy. We were impressed by the commitment level of the teachers that made all this possible. It came to our attention that the teachers had not been paid for several months because of a serious lack of funds. Despite the fact they are were not able to be paid, they continued to teach, completely dedicated to the students and the school's mission.
Hope and Life decided to take on the project of raising money to pay back wages for all of the hard-working teachers who had sacrificed and continued to work for the sake of the children. In November of 2007, Hope and Life sent $8,000, the money necessary to cover the back wages due the teachers of the Mission of Hope School.
Read more about the Mission of Hope School in Haiti.