acts Children's Home: Yangon, Myanmar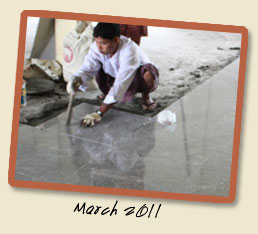 Tiling Girls Dorm: March 2011
The ACTS Children's home has recently had the girl's dorm floor completely redone! Their floor needed to be resurfaced because of health concerns. Funds from Hope and Life purchased tile and labor for the new floor to be installed. The report from ACTS Children's home: " Tiling for the girl dorm is nearly complete. It is so beautiful. Marvelous to see in our eyes. Thank you so much for this to make happen." View Photos

---
Hope and Life sent $5,000.00 in the Summer of 2010 to fund a project that will provide good, clean water for over 250 orphans living at the ACTS Children's home in Yangon, Myanmar. This will be a substantial upgrade in the quality of life for the orphans and staff at ACTS.
---
2010 Camp Sponsorship
Hope and Life sent $500 to sponsor children at ACTS so that they could participate in a sports camp.
---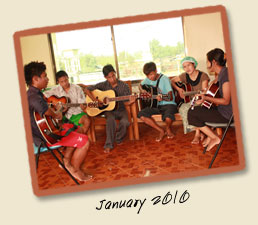 2010 Medical Missions Team
In January of 2010, a Medical Missions team was sent to work in Acts Children's Home. In addition to spending days giving medical care, the children were prayed for individually. The team brought medical suppplies to stock the infirmary. In addition to the medical supplies and attention they were able to give the children, this team brought down other donations including Basketball hoops and several guitars to leave for children living at Acts Children's home. View photos.
Hope and Life is currently working towards bringing a water line to the campus so the childlren will have clean, running water readily available.
---
2008 Medical Missions Team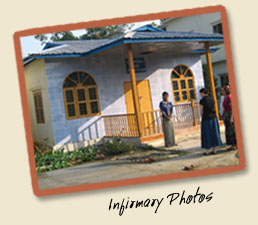 In January of 2008 a team of nurses from Grace Outreach visited the Acts Children's Home in Yangon, Myanmar. The team surveyed the many needs at the orphanage and determined that one of the greatest was the need for an infirmary to be built on the ACTS campus. The children have a wonderful nurse to care for their medical needs but their nurse had very minimal medical supplies and didn't have a place to quarantine children when that was required. In 2008, funds from Hope and Life went to build an infirmary for the children and also provided for the purchase of many medical supplies to stock the infirmary. Check out the photos of the new infirmary that were taken when the team of nurses visited again in January of 2009!
---
2007: Getting Involved
After visiting the Acts Orphanage in Yagon, Myanmar during 2007, Hope and Life determined to partner with this organization in their mission to provide for over 200 orphans.
We consulted the directors to find out how we could help. They relayed their need for a sanitary bathroom for the boy's dorm. Hope and Life was able to raise $3,000 to fund this project. The boy's bathroom was completed in January 2008.
Hope and Life was also able to provide the funds for six bunk beds to be made for the children at Acts Orphanage. The beds were recieved with much excitement in June of 2008.
View photos of the bunk beds at Acts Orphanage.